Awards and Recognition: Young Professionals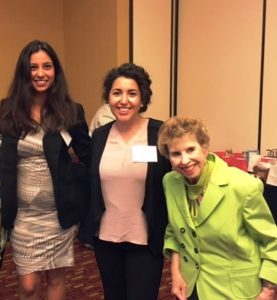 In the above photo are Stephanie Ruiz, Sierra Mar District Young Professional for 2016, Kathy Lopez, Sierra Mar District Young Professional for 2017, with Marjory Hopper, CFBPW Programs/Project Chair. Not pictured is Dr. Angie Terzian, Burbank BPW's Young Professional.
BPW's Young Professional/Young Careerist Program honors people between the ages of 21 and 35 who have been in their field for at least a year. Stephanie Ruiz, member of East Los Angeles-Montebello BPW, obtained her BA degree in Social Work from CSULA and has five years of experience working in the field of Social Services. She has spent the last five years of her career working with homeless youth, emotionally disturbed teenage girls and individuals with developmental disabilities. She is presently the DISCOVERY Coordinator for MERCI in Monterey Park. Katherine (Kathy) Lopez, member of East Los Angeles-Montebello BPW, is a Counselor for McKinley Children's Center Canyon View School, which is an accredited private school providing education to children with special needs. Dr. Angie Terzian, member of Burbank BPW, is a dentist. She wanted to be a dentist from the age of four.
For more information on the Young Professional/Young Careerist program, contact your local BPW Club. CFBPW Young Professional Policy 2014
Young BPW Members
In the above photo is Young BPW member Ellora Easton with CFBPW Past State President Pat Long. Not pictured is Jennifer Penuelas.
Ellora Easton, member of Berkeley BPW, is currently a sophomore at Northgate High School in Walnut Creek, CA and is greatly enjoying the high school experience. She says she has always had a deep interest in women's rights, however, she thinks the recent presidential election has in particular opened her eyes to a deeper understanding of the challenges women and minorities face in the world despite the successes of past generations in working towards equality. Jennifer Penuelas, member of Berkeley BPW, is currently a student at the University of California studying Applied Math and Computer Science. Her long term career goal is to work for a music streaming company with plans to incorporate her love for music into her career in computer science. Short term, she is open to working for a company in or out of the music field that provides a mentorship/training program.
Special Recognitions
Bay Capital District and Downtown Sacramento BPW recognize two members for their service to BPW. Bessie Hironimus joined BPW as a Young BPW in 1973. She has been involved and a contributing member at every level of BPW – Club, District, State, National, Regional and International, often holding several offices concurrently. She is presently Regional Coordinator for North America and the Caribbean and is running for Executive Secretary of BPW International. She is an untiring and outspoken advocate of BPW's mission and objectives while bringing commitment to any position or task that she takes on. Betty Faye Chapman Kaupalolo joined BPW in 1956. She has served her Club, District, the State Federation and NFBPWC. As sick as she was with her cancer operation and treatments she supported the creation of NFBPWC, as its Parliamentarian and counselor. Her wisdom and support are unmatched.
Sierra Mar District recognizes Marie Clifton for her dedication to BPW and the Individual or Personal Development Program (ID). Marie credits the ID program and BPW for helping her greatly and as a result, she is dedicated to helping others get ahead by providing opportunities for them to learn from the Individual Development modules. For the last few years she has helped Sierra Mar District continue. She is the one who has gotten Sierra Mar officers by perhaps twisting arms. She has found places for Sierra Mar to have District meetings, taken care of getting food for the meetings and making sure everything runs according to Sierra Mar's Bylaws and policies and procedures. A few years ago Sierra Mar District awarded her Ms BPW with a plaque. This was a well-deserved honor as this recognition is.
Membership Awards
Clubs that Equalized: BPW of Orange County, Downtown Sacramento, East Los Angeles-Montebello and Weaverville.
Clubs that Increased Membership: Burbank, Chico and Conejo Valley.
Clubs with the Most New Members: Berkeley, Conejo Valley and East Los Angeles-Montebello.