California Federation of Business and Professional Women
The Mission of the CFBPW shall be to promote and support equity for working women in all phases of their lives and to promote personal empowerment and professional development.
PRESIDENT'S COMMUNIQUE – December 2017
Greetings CFBPW members,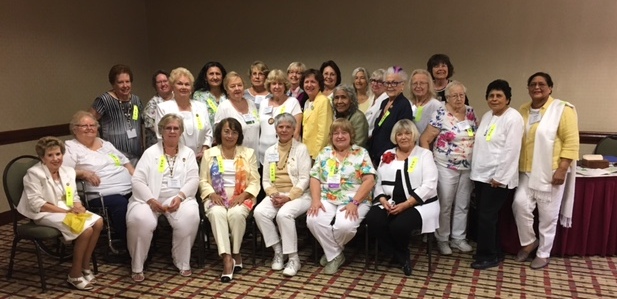 Fall Board of directors attendees (26) wearing white in recognition of Women's Equality Day and yellow BPW ribbons in recognition of BPW-International.
We're closing in on the end of 2017 and what an exciting year it's been for CFBPW!  Well at least for this officer.  Together  we have accomplished a great deal and set in motion more projects that will bring us wonderful dividends before another BPW year begins in May. Enjoy the holidays, stay warm and comfy during the winter and make plans to be at Winter Board and the Public Policy Conference in February.
Katherine Winans, CFBPW President
Together we can do this!
ON SEXUAL ABUSE AGAINST WORKING WOMEN: A REVOLUTION
Reports of sexual harassment and misconduct against working women in its many forms from unwanted touching and male nudity to rape have been headline news since the recent Harvey Weinstein disclosures [no pun intended]. Women across the country have been emboldened to report abuse upon them by men in power, often from decades ago. It is a growing Revolution, I believe, …. indeed a tsunami.
Thanks to the reporting in social media, cable news shows, and daily newspapers, the stories and publicity have motivated private industry leaders to fire the accused. Government pressure upon its elected officials has resulted in resignations from official positions and elected office.
People everywhere have judged the acts of the reported pedophiles and perpetrators as abhorrent and inappropriate activity for a representative of their product. Among the currently fired abusers are  Hollywood icons Harvey Weinstein and Kevin Spacey , NBC Today show host Matt Lauer, and CBS' Charlie Rose.
Political leaders shamed by their pasts and forced to resign include at this writing Congressman John Conyers and Senator Al Franken. In our state's capitol, 140 women lobbyists, elected officials and staffers coordinated an open letter demanding an end to "Sacramento's culture of harassment."
The prestigious TIME MAGAZINE, has just named as its "Person of the Year" these "Silence Breakers."
I thank President Katherine for appointing me as an AD HOC Committee of one to focus on this issue, one of our issues within our important Public Policy Statement. Because of its timeliness, and as OUR ISSUE, my BPW friends, we need to be making a "ruckus"" [Katherine's well chosen term] and I have asked her for the opportunity to lead in this effort.
You will be hearing from me very soon in the CALIFORNIA WOMAN, in Web site notations, and in special communiques and alerts. I will be asking you to make a ruckus and giving some suggestions for ruckus making. Let's do this!
Happy Holidays to all.
Jackie Melvin
Ad Hoc Committee Chairperson for Sexual Abuse Against Working Women
MEMBERSHIP
We are happy to announce that our membership is growing, we have equalized plus 8!  Congratulations to BPW Conejo Valley for their efforts in membership recruitment, so far they are the top recruiters in the State!  Read about our new members in the next California Woman. And look for them on our website, www.bpwca.org.
There are plans for two new Clubs in the South and one in the North of the State.   We thank those working on the preparations and arrangements for the organization of these new groups, and are looking forward to welcome new members.
Everyone is encouraged to join in the membership expansion programs.  Please send any contacts you may have to Bessie Hironimus or Anne Marie Johnson so they can follow up with their membership efforts.   Remember, every member is part of the Membership Committee.  Together we can do this..
Bessie R. Hironimus
PUBLIC POLICY
The District Public Policy Chair – Duties and Responsibilities:
Become thoroughly familiar with the State Public Policy;
Encourage Club and District members to study and understand the Public Policy Statement;
Prepare or participate in legislative updates to Club and District members;
Plan session prior to Public Policy Conference to discuss the Public Policy Statement with the Clubs and District members to reflect the membership views to the State Public Policy Committee at the Conference;
Share legislative information from the State with the Club to keep them informed and interested;
Maintain communication with the State Public Policy Chair;
Attend the Public Policy Conference and meet with the Public Policy Committee to draft a proposed Public Policy Statement for the State Federation.  At this meeting the four District Chairs have a voice (and a vote ) in drafting this statement;
Each District Public Policy Chair is responsible for obtaining and representing the views of their District members;
The District Chairs are encouraged to be prepared to add to or deleted portions of the current Statement and in doing so learn how this action must be presented;
The District Winter Board meetings are an excellent time and place to accomplish the above stated responsibilities;
Check with your District President to be included in the agenda to discuss issues of importance to the District members.
Note:   District Presidents are asked to see that the District budget allows a stipend for the Public Policy Chairs to assist them in attending the Public Policy Conference.
*Contact CFBPW Public Policy Chair Linda J. Lucas at rluca@sbcglobal.net or 530 527-2460 for further information regarding the important role played by the District Public Policy Chairs.
CALIFORNIA WOMAN DEADLINE IS DECEMBER 15.
This Winter issue will be sent early January and cover the February Winter Board of Directors Meeting and Public Policy Conference.
District Presidents and Committee Chairs should provide something.  Any member can submit their own or other's article for consideration.  District and Club photos are appreciated.
WEBSITE
If you've not checked in with the website in a while, please do so, www.bpwca.org.  Linda Wilson is doing a wonderful job at keeping it current.  She need information from Clubs and Districts to keep it current so please assign someone in your Club or District to be responsible for getting here information on your officers, meeting date-location-programs, and community projects.  CFBPW can be proud of its online image.  Thank you Linda.
(Send your information to lindalwilson@juno.com)
VALLEY SUNSET DISTRICT
VSD members have been working hard and the results are showing starting with a successful Fall Conference, Women of Achievement and special donation from the Thousand Oaks Elks Lodge for their generous contribution to our "Children of the Night" project. The Conejo Valley BPW hosted the event with their usual graciousness, efficiency and personal charm. They have several prospective new members and have launched a local public relations program. We have two members that attended the Conference in Egypt, and even more that are traveling the globe on their own. We are truly international!
"PEACE ON EARTH' will be our 17th Annual Brunch in December at Connie's club house on the beach on Saturday, December 9th. The Joint Conference with Sierra Mar District will be our first 2018 event and we look forward to our CFBPW president attending. We welcome all members to our District meetings and if you need travel and lodging advice let us know.
"Take good care of yourself..You are important to the world.
 Welcome home CFBPW delegation to the BPW International Congress in Cairo.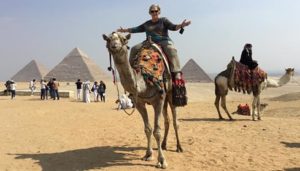 Sandy Thompson w/camel in Cairo
2017 BPW Interntional Congress
A quick note on BPW-I in Cairo from Bessie.  CFBPW played front and center at the Congress:  Sandy Thompson was Chief Parliamentarian, Marjory Hopper served on the Credentials Committee and we had several delegates.
NFBPWC President Liz Benham and I carried the US Flag during the Flag Parade, the first flag after BPW International.  Liz was awarded the Lena's Award at the Opening Ceremony and I received the President's Award during Congress.  I won the election as Executive Secretary.  Amany Asfour (from Egypt) is our new President, Susan Jones first VP Membership (past Asia Pacific Region Coordinator) and Catherine Bosshart (past Exec Secretary) is now the 2nd VP of UN.  The new Finance Officer is Giusepina Seidita of taly, and Young BPW Chair is Neelima Basnet (Napal) and North American & Caribbean Region Coordinator Dawne William (St. Kitts).
 Bylaws
Bylaws Chair Linda Wilson would like copies of most current/updated bylaw from all clubs and Districts.  lindalwilson@juno.com
Legislation/Public Policy
Our Screening Committee has been busy.  The reports below update bill status on bills CFBPW supports.  This is a good opportunity to send a post card to bill's author, your legislators if they voted for it, and to the governor.
Report:             Status of Legislation Reviewed by the Screening Committee on 02.25.17 and now before the Governor to sign or veto by 10.15.17.
AB260             Human Trafficking – Posted Notice    Author: Santiago          CFBPW:  Support
SB169              Discrimination: Federal Title IX           Author: Jackson/De Leon         CFBPW:  Support
Report:             Status of Legislation Reviewed by the Screening Committee by 09.07.17 and now before the Governor to sign or veto by 10.15.17.
AB41               DNA Evidence – Tracking                   Author: Chiu                CFBPW:  Support
SB12                Foster Youth – Financial Aid               Author:  Beall              CFBPW:  Support
NFBPWC ADVOCACY COMMITTEE – Linda Wilson, 2nd Vice President for Advocacy NFBPWC
NFBPW supports the Alice Paul's Equal Rights Amendment, which states "Section 1: Equality of Rights under the law shall not be denied or abridged by the United States or by any State on account of sex. Section 2: The Congress shall have the power to enforce, by appropriate legislation, the provisions of this article. Section 3: This amendment shall take effect two years after the date of ratification." It is the number one item on the NFBPWC's Advocacy Platform. It seems the best shot that we have to make the ratification happen is to help two more States ratify ERA and to have Congress remove the deadline on passage of ERA.
ACTION:  ERA – There is still have time to ask your Congress people to be a co-sponsor of HJ Res. 53 Speier (CA-D) and SJ Res. 5 Cardin (MD-D) to remove the deadline for ratification of ERA in Congress. HJ Res 53 has 161 co-sponsors (all Democrats). Check https://www.congress.gov/bill/115th-congress/house-joint-resolution/53/cosponsors  to see if your Congressperson is on the list. If not, contact him or her to find out why he or she is not on it. SJ Res 5 has 33 co-sponsors (one Independent and the rest are Democrats).  Check https://www.congress.gov/bill/115th-congress/senate-joint-resolution/5/cosponsors to see if your State's Senators are on the list. If not, contact him or her to find out why he or she is not on it. Urge your Senators to be co-sponsors. ERAAction  plans a "Thunderclap" action to send messages to the Congressional Committees telling them that we want hearings scheduled on the bills. We can participate by calling Representative Steve King for the House Subcommittee on the Constitution and Civil Justice (202) 225-4426 and Senator Chuck Grassley for the Senate Judiciary Committee (202) 224-3744 or visiting them in their offices. NFBPWC supports this bill which is called "The Three State Initiative."  (If your Senator or congressperson has already signed on in support, send them a thank you postcard)
ACTION:  U. S. Secretary of Education Betsy DeVos has changed the regulations on Title IX giving more protection to the accused perpetrator. According to an E-mail from Kimberly Churches, AAUW Chief Executive Officer, "Forty-eight percent of students in grades 7-12 face sexual harassment; although 20 percent of women are targets of attempted or completed sexual assault, 89 percent of college campuses disclosed zero reported incidents in 2015." We need to urge the Department of Education to enforce and protect Title IX. According to the "Rochester Business Journal," "Congresswoman Louise Slaughter (D-NY) has introduced a bill intended to defend Title IX protections. Slaughter's proposed legislation would take a series of steps to handle gender issues in federally funded institutions. Among them, the bill would establish an Office of Gender Equity in the DOE, give annual training to Title IX coordinators, provide resources to schools, and give grant funding to educational institutes to embolden programs, among others. Fellow Hawaiian Sen. Mazie Hirono has released a companion bill to Slaughter's legislation, dubbed the Patsy Mink Equal Opportunity Act." The Patsy Mink Equal Opportunity Act HR 3828 has four co-sponsors – all Democrats. It has been referred to the House Committee on Education and the Work Force.  S.1421 has nine co-sponsors – all Democrats. It has been referred to the Senate Committee on Health, Education, Labor, and Pensions. (Send a post card to your Representative and Senator urging them to support these bills.)
According to the October 13th "Feminist Daily Newswire," On October 12th "Representative Jackie Speier (D-CA) introduced the Title IX Protection Act, which would codify into law the 2011 and 2014 Title IX guidance that aimed to protect survivors of sexual assault on college campuses, and which was recently rescinded by Education Secretary Betsy DeVos of the Trump administration…. The Title IX Protection Act would re-balance the scales of justice in campus sexual assault cases. Under this bill, accusations of sexual assault would be held to the same evidence standard as all other civil cases. DeVos's interim guidance instead allows schools to discriminate against sexual assault survivors and prioritize the education of the accused. The Title IX Protection Act also reiterates that investigations should be conducted in a timely manner and clarifies that survivors should not be forced into mediation with the person who has assaulted them." HR 4030 has 32 co-sponsors – all Democrats. It has been referred to the House Committee on Education and the Work Force. At this time there is no related Senate bill. According to the October 27th "AAUW Washington Update," " One in five women is a subject of sexual assault while in college."
According to "The Source," "On September 25, the House passed S.1141, the Women, Peace, and Security Act of 2017, by voice vote, clearing the bill for the president's signature. The bill passed the Senate on August 3 (see 'The Source' 8/4/17); an earlier version of the bill sponsored by Rep. Kristi Noem (R-SD), H.R. 2428, cleared the House on June 20 (see 'The Source' 6/23/17). The bill would ensure that the United States promotes 'meaningful participation of women in mediation and negotiation processes seeking to prevent, mitigate, or resolve violent conflict.' A government-wide strategy would be implemented to train personnel regarding the participation of women and to evaluate progress toward this goal." This was signed by the President on October 6th and become law Public Law #115-68.
In January 2018 Congresswoman Pramila Jayapal (D-WA) plans to  introduce a new Equal Rights Amendment written by the ERACoalition, which they are calling Amendment for Constitutional Equality (ACE). This new amendment says "SECTION 1. Women, in all diversity, shall have equal rights in the United States and every place subject to its jurisdiction. SECTION 2. Equality of rights shall not be denied or abridged by the United States or any State on account of sex (including pregnancy, gender, sexual orientation, or gender identity), or race (including ethnicity or national origin, and color), or like grounds of subordination (such as disability or faith), or any combination thereof. Neither the United States or any State shall give force by law to disadvantages suffered by those whose equality rights are denied or abridged. SECTION 3. To fully realize the rights guaranteed under this article, Congress and the several States shall take legislative and other measures to prevent or redress any disadvantage suffered by any individuals or groups because of past or present discrimination. SECTION 4. To fully realize the rights guaranteed under this article, Congress and the several States shall take all steps requisite and effective to reform or abolish institutions that infringe the rights of a citizen of the United States to vote or the right to have each vote counted equally. SECTION 5. Nothing in Section 2 shall invalidate a law, program, or activity that is protected or required under this article. SECTION 6. Congress and the several States shall have the power to enforce, by appropriate legislation, the provisions of this article." At this point NFBPWC has not discussed this new amendment and probably will not take a stand until the Assembly next July. ACTION: Discuss this new amendment in your Clubs and Districts.
ACTION:  September 26th was Voter Registration Day. Are you registered to vote? If you have moved, you need to re-register. Check http://www.nonprofitvote.org/voting-in-your-state/ to see if you are registered and the requirements of your State to vote. Unfortunately, some States have passed laws requiring additional IDs to vote. In addition to these laws, there is also the Committee, which President Trump recently formed, to investigate illegal voting which has been a very minor problem in this country. What is a huge problem and has been are laws to prevent or discourage people from voting. It is not getting better so make sure you are registered to vote and if not, register and vote!!!  (Send a post card to your Representatives and Senators asking them to support Voter Protection laws.)
November 2nd is Latina Equal Pay Day. Latina's make 54 percent of what white males do. Latinas lose more than a million dollars over their 40 year working career due to the wage gap.
ACTION:  Paycheck Fairness Act H.R. 1869 would make it mandatory for employers to show the reason behind any pay differences and how they are not based on gender. The bill would also keep employers from punishing employees for seeking equal pay. It has 198 co-sponsors – 197 Democrats and 1 Republican. It has been referred to the House Committee on Education and the Workforce.  The Senate version S.819 has 45 co-sponsors – 44 Democrats and 1 Independent. It has been referred to the Senate Committee on Health, Education, Labor and Pensions.  (Send a post card to your Representatives and Senators thanking them for their support of these bills.)
According to the Institute for Women's Policy Research, "The gender wage ratio improved slightly from 79.6 in 2015 to 80.5 in 2016, the first statistically significant improvement in the annual wage ratio since 2007, according to new data released by the U.S. Census Bureau in September. When comparing women's wages to White men's earnings, the wage gap narrowed for White women and widened for Black women. Black women were the only group of women to see their wages fall. If current trends continue, women will not receive equal pay until 2059, according to a related IWPR analysis of trends in earnings since 1960. This projection for equal pay remains unchanged since last year, indicating that the rate of progress, while improving, is still slow."
According to the Institute for Women's Policy Research, "October jobs report finds that women lost 41,000 jobs in September while men gained 8,000 jobs for a total of 33,000 jobs lost in September. Many experts attribute this dip in employment to the hurricanes that hit Texas and Florida last month. With women shouldering the entirety of last month's job losses, this jobs report shows the unequal impact of climate disasters on women's economic security.
Senator Tammy Baldwin's bill to establish a "Women's Vote Centennial Commission" has passed Congress. The Commission plans to start their work in January 2019 and no later than June 2019. They also plan to launch a new stand-alone website in the next few months. According to October 30th communication from Jill Z., "Various governmental entities have submitted the names of their designated representatives on the commission, except for the White House and Speaker Ryan. Contact either office or both to urge Ryan and President Trump to submit their designees and allow the commission to get on with its work. The $2 million appropriation attached to the legislation could be a great boon to organization's planning for 2020." The Commission will want to know what organizations are doing to recognize the event.
According to October 6th "Shots: Health News NPR," "The Trump administration is rolling back the Obama-era requirement that employer-provided health insurance policies cover birth control methods at no cost to women. According to senior officials with the Department of Health and Human Services, the goal of the new rule is to allow any company or nonprofit group to exclude the coverage for contraception if it has a religious or moral objection. 'This provides an exemption, and it's a limited one,' said Roger Severino, director of the HHS Office of Civil Rights. 'We should have space for organizations to live out their religious identity and not face discrimination.' He said he expects that most companies will continue to provide coverage for birth control and that the changes will only affect a tiny percentage of U.S. women. The new rules are being published Friday in the Federal Register and go into effect immediately. But some health policy analysts say the new rule creates a huge opening that lets any employer claim an exemption, leaving their female workers to pay the full cost of any birth control out of pocket. 'It is a huge loophole for any employer that does not want to provide birth control coverage to their employees,' says Dania Palanker, a professor at Georgetown University's Center on Health Insurance Reform. The change fulfills a promise President Trump made in May to the Catholic religious order The Little Sisters of the Poor in a ceremony in the White House Rose Garden. The nuns had sued the Obama administration over the birth control requirement. The Obama administration created an exemption for churches and allowed other 'religious employers' to opt out by notifying the government. When they did so, the administration would arrange with their insurance companies to provide the coverage directly, without the employers' involvement. But the Little Sisters of the Poor weren't happy with that workaround and sued. The group's case, and a second one involving private businesses including the Hobby Lobby chain of craft stores, which has 32,000 employees, went to the Supreme Court. The court ruled in favor of Hobby Lobby in 2014, saying privately held companies could object on religious grounds. And then, last year, the court issued a split ruling in the Little Sisters case, saying the government shouldn't fine the nuns but ordering the two sides to work out an arrangement that accommodates their religious beliefs. Before a deal was reached, Trump became president."
ACTION:  HR 2418 Pay Equity for All Act which was introduced by Representatives Eleanor Holmes Norton (D-DC), Rosa DeLauro (D-CT), Jerrold Nadler (D-NY), and Jackie Speier (D-CA) would prohibit employers from asking job applicants for their salary history before making a job or salary offer. It has 22 co-sponsors – all Democrats. For anything to happen with this bill, it needs to have more co-sponsors and a hearing. It has been referred to the House Committee on Education and Workforce Committee. Massachusetts, New York City, San Francisco and Philadelphia passed similar bills during the past year.  (Send a post card to your Representatives and Senators thanking them for their support of this legislation…or urge them to support if they have not already signed on.  Thank the authors for carrying the legislation.)
ACTION:  Fair Pay Act (HR 2095) would help curb occupational segregation. Women and men still tend to work in different kinds of jobs; this segregation of occupations is a major factor behind the pay gap. Requiring employers to provide equal pay for work of equal value, whether or not the jobs are the same, addresses unequal pay in female-dominated jobs that are objectively rated equivalent to jobs traditionally dominated by men. HR 2095 Eleanor Norton (D-DC-At large) has twelve co-sponsors – all Democrats. It has been referred to the House Committee on Education and the Workforce. At this time there is no related bill in the Senate. (Send a post card to Eleanor Nortan thanking her for introducing the legislation.)
ACTION:  H.R. 19 Maloney (D-NY) and Royce (R-CA), which would identify two possible sites for a National Women's History Museum on the National Mall and requires private funding for the museum's construction has 250 cosponsors (192 Democrats and 58 Republicans). April 4th it was referred to the Subcommittee on Federal Lands. The National Women's History Museum is working with the staff of members of Congress Carolyn Maloney and Ed Royce to hold special Congressional briefings to share the importance and need for the museum in order to push this legislation forward. S. 1498 Collins (R-ME) has 19 (all Democrat). June 29th it was referred to the Senate Rules and Administration Committee. (Send a post card to Ed Royce him for his support of the of the National Women's History Museum.)
ACTION:  Nothing further has happened to S.1038. According to WIPP (Women Impacting Public Policy), "Recently, Senators Joni Ernst (R-IA) and Kirsten Gillibrand (D-NY) introduced bipartisan legislation (S. 1038) in response to WIPP's 'Do Not Enter Report: Women Shut Out of the Government's Largest Contracts.' We urge WIPP members (NFBPWC is a WIPP Partner) to ask their legislators to support S. 1038 by signing on as a co-sponsor." It has two additional co-sponsors to the original writers of the bill. September 2nd it was placed on Senate Legislative Calendar under General Orders. Calendar No. 198.
(Send a post card to your Senator asking for support of the of this Legislation.)
Valley Sunset District
 At their 2017 Fall Board meeting members of Valley Sunset District honored two women of achievement.
Helen Follmer is a member of Conejo Valley BPW.   She and her husband started their own business manufacturing private labels for pan spray coatings from many different retailers.  In the beginning they conducted the science experiments in their kitchen. She considers herself only "partially" retired now as she is involved in rental real estate, helps transport senior citizens, works on actual home building as a volunteer missionary four weeks each year and travels the globe in between.
Diane Reyes, a member of Burbank BPW, holds a Bachelor in Arts in History and Psychology and attended Loyola Law School to earn her Juris Doctorate.  Her law practice focuses on Dependency, Adoptions and Guardianships and Administrative Hearings.  In 2007 she was appointed as a Juvenile Court Referee by the Presiding Judge of Juvenile court.  Diane volunteers as scorer/judge for Constitutional Rights Foundation Mock Trial Program and was a Girl Scout Leader.   She is a member of the Los Angeles County Bar Association Diversity in the Profession Committee, Latina Lawyers Bar Association, Loyola Law School Latino Alumni Association, and the Los Angeles County Bar Association.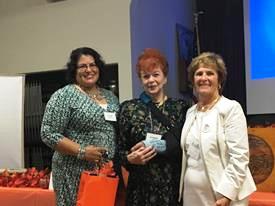 Diane Reyes, Valley Sunset President Connie Stahl and Helen Follmer
Small Business
Chair Manjul is encouraging us all to register our businesses with the BPW-I/UN collaborative program with the International Trade Center's #SheTrades.  The goal is to register one million women entrepreneurs to market by 2020.  This is done via the BPW International website, http://bpw-international.org/business-registration.  This is a valuable membership benefit and recruitment tool.  Let's use it.
Website
Webmaster Linda Wilson reminded us that each Club and District has a page on our website, https://bpwcal.org/, under the Member Clubs tab.  Please designate someone in your District and Club to keep the information current.  Suggested information:  Officers, time and location of your meetings, upcoming programs, photos of meetings or events.  This could be assigned to your PR Chair to update monthly.  It's easy.  Simply send the information to Linda Wilson at lindalwilson@juno.com.
Young Professionals
YP Chair Sally McMahon will be reviewing bylaws and policies for YP for updates, and she encourages using this program as a membership recruitment tool.  Remember, the YP age parameters are 21-35.
Future Meetings
Winter Board of Directors and Public Policy Conference: Please mark your calendars for February 23-25, 2018 at Best Western Plus Sutter House and Blue Prynt Restaurant, Sacramento
Annual Conference:  May 18-20, 2018 in  Minden, NV (www.visitCarsonvalley.org) at the Carson Valley Inn (www.cvinn.com) Plan to come a day early and/or stay a day later to see some of the sights (some events/tours will be arranged).
DISTRICT UPDATES
Sierra Mar/ Valley Sunset Districts: Joint Winter Conference January 20, 2018 – LOCATION:  Ramada Inn, South El Monte
Parliamentarian
TO:                  All Members
FROM:            Trudy Waldroop, CFBPW Parliamentarian
DATE:            June 28, 2017
SUBJECT:      CFBPW Bylaws Amendments at May 2017 Annual Conference to Article X Officers Section 2 and Article XIII Duties of Officers Section 6 AAfter pursuing a nagging thought in the back of my head, I can now report that the bylaws amendment to the two Articles listed above regarding the parliamentarian, "Serve the State Federation without a vote at the Executive Committee and Board of Directors' meetings" is illegal in the State of California. Specifically, this amendment to our bylaws is not in compliance with the California Corporations Code.  This change to the Code arose out of AB1233 and became effective on January 1, 2010 which states:             Nonprofit corporations may no longer have non-voting directors.
According the to bill the reason for the change is as follows.
SEC. 3. Section 5047.5 of the Corporations Code is amended to read:
5047.5. (a) The Legislature finds and declares that the services of directors and officers of nonprofit corporations who serve without compensation are critical to the efficient conduct and management of the public service and charitable affairs of the people of California.The conference's action of May 20, 2017 regarding the above subject will need to be corrected at the 2018 Annual Conference. In order to be in compliance with the State of California on this subject, CFBPW needs to either:
Re-instate the voting privileges to the parliamentarian.
OR
Remove the position of parliamentarian as an officer and member of the Board of Directors.