California Federation of Business and Professional Women
The Mission of the CFBPW shall be to promote and support equity for working women in all phases of their lives and to promote personal empowerment and professional development.
PRESIDENT'S COMMUNIQUE – October 2017
Greetings CFBPW members,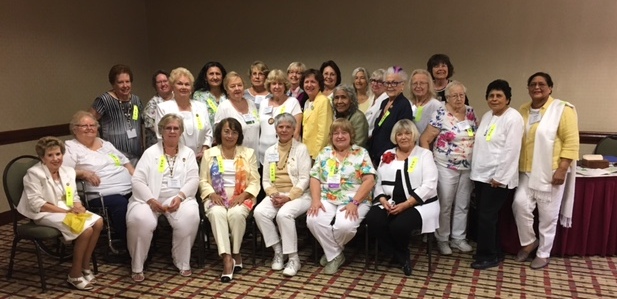 Fall Board of directors attendees (26) wearing white in recognition of Women's Equality Day and yellow BPW ribbons in recognition of BPW-International.
Please keep our BPW sisters in all of the Caribbean, Florida and Mexico in your thoughts.  If you'd like to donate to their relief you may do so via International's Website at www.bpw-international.org.  Remember, too, the family and friends of those killed and those wounded in Las Vegas.  In addition, give thanks to the brave women and men who came to the aid of those who were suddenly thrust into harm's way. From the first responders, to the fellow citizens who did all they could to help in a moment's notice, these selfless acts of bravery often go unnoticed.
There are so many changes coming out of Washington DC it's hard to keep track – and remain positive.  California is a rather safe zone but really ugly things are happening in other states.  Governors, Legislatures, Mayors…are working to dismantle so much of what we've worked so hard to gain.  We can't sit this out.  CFBPW members must call up the resources necessary to ensure that doesn't happen.  The positive side to this alarming situation is…CFBPW offers opportunities to women and men looking for direction in making a positive difference.  CFBPW is an easy and effective instrument to direct their energy to protect against the relentless attacks on the rights and freedoms we faught so hard to achieve. So much depends on us working together.
The California Federation is honored to have six members attending the International Congress in Cairo later this month.  There is no doubt they will represent California and the NFBPWC with class, diligence, humor and understanding.  California's Past State President and current Membership Chair Bessie Hironimus is a candidate for International Executive Secretary and we are confident of her success.  Other members attending are Manjul Batra, Sujata Easton, Marjory Hopper, Laila El-Sissi and Sandy Thompson.
Club Presidents please be sure to share these communiques with your members without email access.  That could be by printing and iling, bringing copies to meetings or showing them how to access the CFBPW website at their local library.
Katherine Winans, CFBPW President
Together we can do this!
Bylaws
Bylaws Chair Linda Wilson would like copies of most current/updated bylaw from all clubs and Districts.  lindalwilson@juno.com
Legislation/Public Policy
Our Screening Committee has been busy.  The reports below update bill status on bills CFBPW supports.  This is a good opportunity to send a post card to bill's author, your legislators if they voted for it, and to the governor.
Report:             Status of Legislation Reviewed by the Screening Committee on 02.25.17 and now before the Governor to sign or veto by 10.15.17.
AB260             Human Trafficking – Posted Notice    Author: Santiago          CFBPW:  Support
SB169              Discrimination: Federal Title IX           Author: Jackson/De Leon         CFBPW:  Support
Report:             Status of Legislation Reviewed by the Screening Committee by 09.07.17 and now before the Governor to sign or veto by 10.15.17.
AB41               DNA Evidence – Tracking                   Author: Chiu                CFBPW:  Support
SB12                Foster Youth – Financial Aid               Author:  Beall              CFBPW:  Support
Membership
The Membership & Marketing committee has been active.  Please check the new Member Benefit FAQ on the website (https://bpwcal.org/membership/).  Thank you Bessie for compiling the information and Linda for getting it posted so quickly.
From contact made at last May's Installation, Membership Chair Bessie made a trip to BPW Nevada County.  She reported a warm and receptive welcome and was given time on their agenda.  She shared with them some of the EPW-USA/NFBPWC history and new development of getting our "B" back as well as International and National programs.  BPWNC welcomed the information, kept all the CFBPW, NFBPWC and BPWI brochures she had with her.
NFBPWC ADVOCACY COMMITTEE – Linda Wilson, 2nd Vice President for Advocacy NFBPWC
ACTION:  ERA – There is still have time to ask your Congress people to be a co-sponsor of HJ Res. 53 Speier (CA-D) and SJ Res. 5 Cardin (MD-D) to remove the deadline for ratification of ERA in Congress. HJ Res 53 has 161 co-sponsors (all Democrats). Check https://www.congress.gov/bill/115th-congress/house-joint-resolution/53/cosponsors  to see if your Congressperson is on the list. If not, contact him or her to find out why he or she is not on it. SJ Res 5 has 33 co-sponsors (one Independent and the rest are Democrats).  Check https://www.congress.gov/bill/115th-congress/senate-joint-resolution/5/cosponsors to see if your State's Senators are on the list. If not, contact him or her to find out why he or she is not on it. Urge your Senators to be co-sponsors. ERAAction  plans a "Thunderclap" action to send messages to the Congressional Committees telling them that we want hearings scheduled on the bills. We can participate by calling Representative Steve King for the House Subcommittee on the Constitution and Civil Justice (202) 225-4426 and Senator Chuck Grassley for the Senate Judiciary Committee (202) 224-3744 or visiting them in their offices. NFBPWC supports this bill which is called "The Three State Initiative."  (If your Senator or congressperson has already signed on in support, send them a thank you postcard)
ACTION:  U. S. Secretary of Education Betsy DeVos has changed the regulations on Title IX giving more protection to the accused perpetrator. According to an E-mail from Kimberly Churches, AAUW Chief Executive Officer, "Forty-eight percent of students in grades 7-12 face sexual harassment; although 20 percent of women are targets of attempted or completed sexual assault, 89 percent of college campuses disclosed zero reported incidents in 2015." We need to urge the Department of Education to enforce and protect Title IX. According to the "Rochester Business Journal," "Congresswoman Louise Slaughter (D-NY) has introduced a bill intended to defend Title IX protections. Slaughter's proposed legislation would take a series of steps to handle gender issues in federally funded institutions. Among them, the bill would establish an Office of Gender Equity in the DOE, give annual training to Title IX coordinators, provide resources to schools, and give grant funding to educational institutes to embolden programs, among others. Fellow Hawaiian Sen. Mazie Hirono has released a companion bill to Slaughter's legislation, dubbed the Patsy Mink Equal Opportunity Act."
(Send a post card to your Representative and Senator urging them to support these bills.)
ACTION:  September 26th was Voter Registration Day. Are you registered to vote? If you have moved, you need to re-register. Check http://www.nonprofitvote.org/voting-in-your-state/ to see if you are registered and the requirements of your State to vote. Unfortunately, some States have passed laws requiring additional IDs to vote. In addition to these laws, there is also the Committee, which President Trump recently formed, to investigate illegal voting which has been a very minor problem in this country. What is a huge problem and has been are laws to prevent or discourage people from voting. It is not getting better so make sure you are registered to vote and if not, register and vote!!!  (Send a post card to your Representatives and Senators asking them to support Voter Protection laws.)
October is Domestic Violence Awareness Month. Show your support and bring awareness of domestic violence and other forms of gender-based violence by using the hashtag #DVAM2017 on social media.
ACTION:  Paycheck Fairness Act H.R. 1869 would make it mandatory for employers to show the reason behind any pay differences and how they are not based on gender. The bill would also keep employers from punishing employees for seeking equal pay. It has 198 co-sponsors – 197 Democrats and 1 Republican. It has been referred to the House Committee on Education and the Workforce.  The Senate version S.819 has 45 co-sponsors – 44 Democrats and 1 Independent. It has been referred to the Senate Committee on Health, Education, Labor and Pensions.  (Send a post card to your Representatives and Senators thanking them for their support of these bills.)
ACTION:  HR 2418 Pay Equity for All Act which was introduced by Representatives Eleanor Holmes Norton (D-DC), Rosa DeLauro (D-CT), Jerrold Nadler (D-NY), and Jackie Speier (D-CA) would prohibit employers from asking job applicants for their salary history before making a job or salary offer. It has fifteen co-sponsors – all Democrats. For anything to happen with this bill, it needs to have more co-sponsors and a hearing. It has been referred to the House Committee on Education and Workforce Committee. Massachusetts, New York City, San Francisco and Philadelphia passed similar bills during the past year.  (Send a post card to your Representatives and Senators thanking them for their support of this legislation…or urge them to support if they have not already signed on.  Thank the authors for carrying the legislation.)
ACTION:  Fair Pay Act (HR 2095) would help curb occupational segregation. Women and men still tend to work in different kinds of jobs; this segregation of occupations is a major factor behind the pay gap. Requiring employers to provide equal pay for work of equal value, whether or not the jobs are the same, addresses unequal pay in female-dominated jobs that are objectively rated equivalent to jobs traditionally dominated by men. HR 2095 Eleanor Norton (D-DC-At large) has five co-sponsors – all Democrats. It has been referred to the House Committee on Education and the Workforce. At this time there is no related bill in the Senate. (Send a post card to Eleanor Nortan thanking her for introducing the legislation.)
ACTION:  H.R. 19 Maloney (D-NY) and Royce (R-CA), which would identify two possible sites for a National Women's History Museum on the National Mall and requires private funding for the museum's construction has 248 cosponsors (191 Democrats and 57 Republicans). April 4th it was referred to the Subcommittee on Federal Lands. The National Women's History Museum is working with the staff of members of Congress Carolyn Maloney and Ed Royce to hold special Congressional briefings to share the importance and need for the museum in order to push this legislation forward. S. 1498 Collins (R-ME) has 15 (all Democrat). June 29th it was referred to the Senate Rules and Administration Committee. (Send a post card to Ed Royce him for his support of the of the National Women's History Museum.)
The Women's March group is planning a national conference for October 27th-29th at the Cobo Center in Detroit. They plan to have thousands of women attend to participate in workshops, strategy sessions and forums to prepare for the 2018 midterm elections. http://www.freep.com/story/life/2017/09/24/national-womens-convention-detroit/694142001/
ACTION:  Nothing further has happened to S.1038. According to WIPP (Women Impacting Public Policy), "Recently, Senators Joni Ernst (R-IA) and Kirsten Gillibrand (D-NY) introduced bipartisan legislation (S. 1038) in response to WIPP's 'Do Not Enter Report: Women Shut Out of the Government's Largest Contracts.' We urge WIPP members (NFBPWC is a WIPP Partner) to ask their legislators to support S. 1038 by signing on as a co-sponsor." It has two additional co-sponsors to the original writers of the bill. September 2nd it was placed on Senate Legislative Calendar under General Orders. Calendar No. 198.
(Send a post card to your Senator asking for support of the of this Legislation.)
Valley Sunset District
 At their 2017 Fall Board meeting members of Valley Sunset District honored two women of achievement.
Helen Follmer is a member of Conejo Valley BPW.   She and her husband started their own business manufacturing private labels for pan spray coatings from many different retailers.  In the beginning they conducted the science experiments in their kitchen. She considers herself only "partially" retired now as she is involved in rental real estate, helps transport senior citizens, works on actual home building as a volunteer missionary four weeks each year and travels the globe in between.
Diane Reyes, a member of Burbank BPW, holds a Bachelor in Arts in History and Psychology and attended Loyola Law School to earn her Juris Doctorate.  Her law practice focuses on Dependency, Adoptions and Guardianships and Administrative Hearings.  In 2007 she was appointed as a Juvenile Court Referee by the Presiding Judge of Juvenile court.  Diane volunteers as scorer/judge for Constitutional Rights Foundation Mock Trial Program and was a Girl Scout Leader.   She is a member of the Los Angeles County Bar Association Diversity in the Profession Committee, Latina Lawyers Bar Association, Loyola Law School Latino Alumni Association, and the Los Angeles County Bar Association.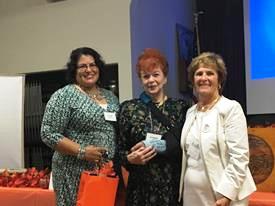 Diane Reyes, Valley Sunset President Connie Stahl and Helen Follmer
Small Business
Chair Manjul is encouraging us all to register our businesses with the BPW-I/UN collaborative program with the International Trade Center's #SheTrades.  The goal is to register one million women entrepreneurs to market by 2020.  This is done via the BPW International website, http://bpw-international.org/business-registration.  This is a valuable membership benefit and recruitment tool.  Let's use it.
Website
Webmaster Linda Wilson reminded us that each Club and District has a page on our website, https://bpwcal.org/, under the Member Clubs tab.  Please designate someone in your District and Club to keep the information current.  Suggested information:  Officers, time and location of your meetings, upcoming programs, photos of meetings or events.  This could be assigned to your PR Chair to update monthly.  It's easy.  Simply send the information to Linda Wilson at lindalwilson@juno.com.
Young Professionals
YP Chair Sally McMahon will be reviewing bylaws and policies for YP for updates, and she encourages using this program as a membership recruitment tool.  Remember, the YP age parameters are 21-35.
Future Meetings
Winter Board of Directors and Public Policy Conference: Please mark your calendars for February 23-25, 2018 at Best Western Plus Sutter House and Blue Prynt Restaurant, Sacramento
Annual Conference:  May 18-20, 2018 in  Minden, NV (www.visitCarsonvalley.org) at the Carson Valley Inn (www.cvinn.com) Plan to come a day early and/or stay a day later to see some of the sights (some events/tours will be arranged).
There is renewed enthusiasm in the California Federation and we are practicing our theme of,
Together we can do this!
Please contact President Katherine if you want to become an active part of this team jkw@gbis.com.
DISTRICT UPDATES
Sierra Mar/ Valley Sunset Districts: Joint Winter Conference January 20, 2018 – LOCATION:  Ramada Inn, South El Monte
Sierra Mar District: Fall Conference: October 21st, 8:45 A.M.-2:30 P.M. at St. Paul's Lutheran Church, 2009 S. Garfield Avenue, Monterey Park. Morning speaker Paul Gibson from Friends of Foster Children and afternoon speaker Rosemary Enzer on CASA.

Parliamentarian
TO:                  All Members
FROM:            Trudy Waldroop, CFBPW Parliamentarian
DATE:            June 28, 2017
SUBJECT:      CFBPW Bylaws Amendments at May 2017 Annual Conference to Article X Officers Section 2 and Article XIII Duties of Officers Section 6 A

After pursuing a nagging thought in the back of my head, I can now report that the bylaws amendment to the two Articles listed above regarding the parliamentarian, "Serve the State Federation without a vote at the Executive Committee and Board of Directors' meetings" is illegal in the State of California. Specifically, this amendment to our bylaws is not in compliance with the California Corporations Code.  This change to the Code arose out of AB1233 and became effective on January 1, 2010 which states:             Nonprofit corporations may no longer have non-voting directors.
According the to bill the reason for the change is as follows.
SEC. 3. Section 5047.5 of the Corporations Code is amended to read:
5047.5. (a) The Legislature finds and declares that the services of directors and officers of nonprofit corporations who serve without compensation are critical to the efficient conduct and management of the public service and charitable affairs of the people of California.

The conference's action of May 20, 2017 regarding the above subject will need to be corrected at the 2018 Annual Conference. In order to be in compliance with the State of California on this subject, CFBPW needs to either:
Re-instate the voting privileges to the parliamentarian.
OR
Remove the position of parliamentarian as an officer and member of the Board of Directors.